Endless Demand (Picture for Thomas)
(2012)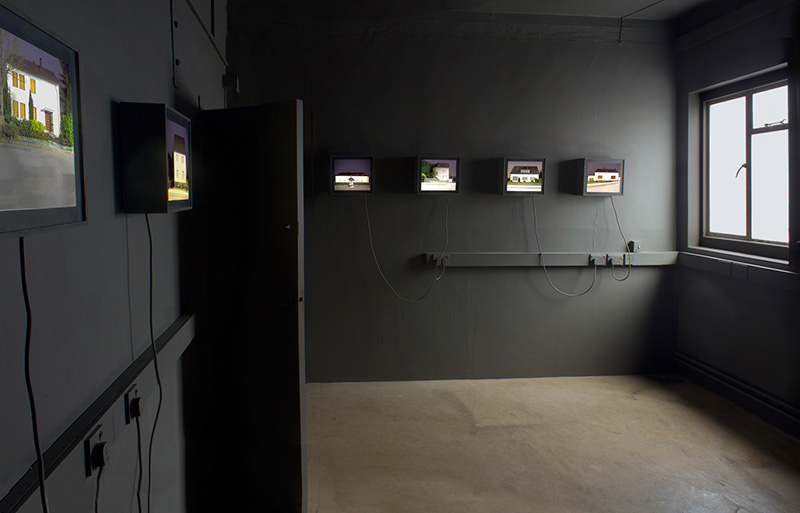 Installation Shot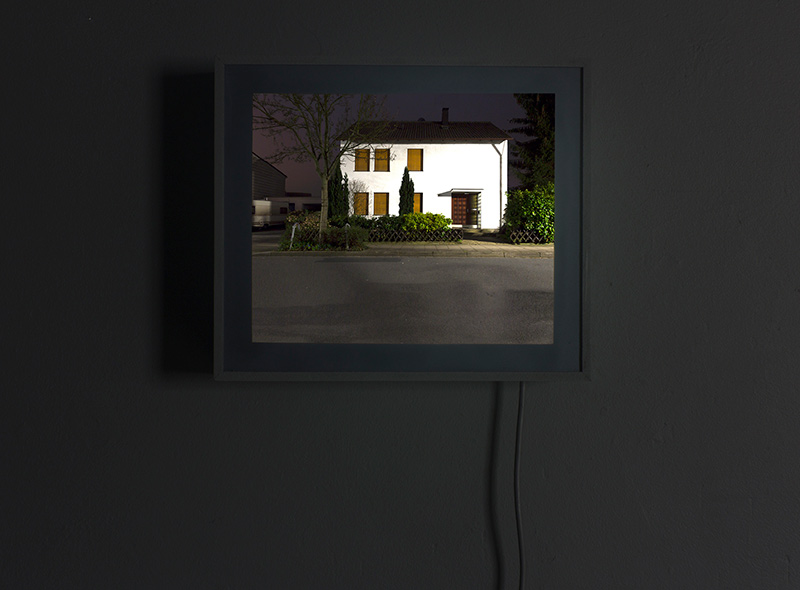 Installation Shot, 10×12 Duratran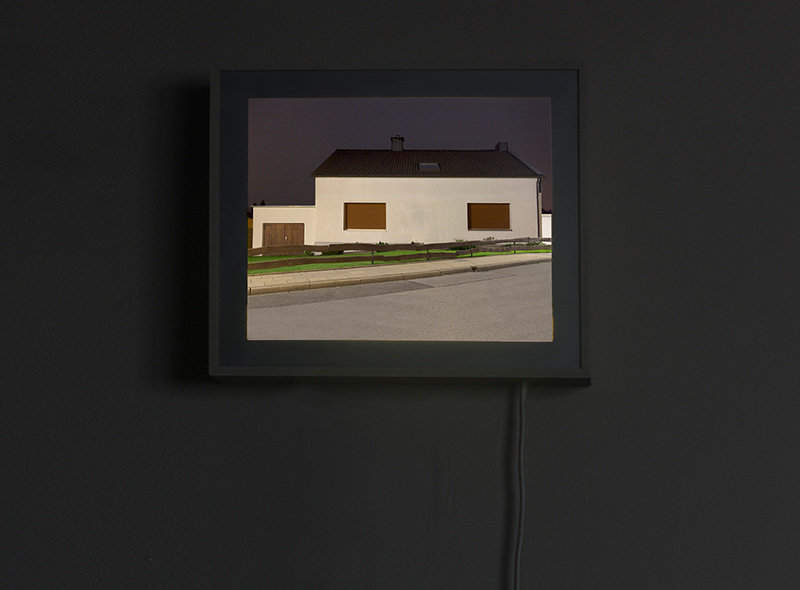 Installation Shot, 10×12 Duratran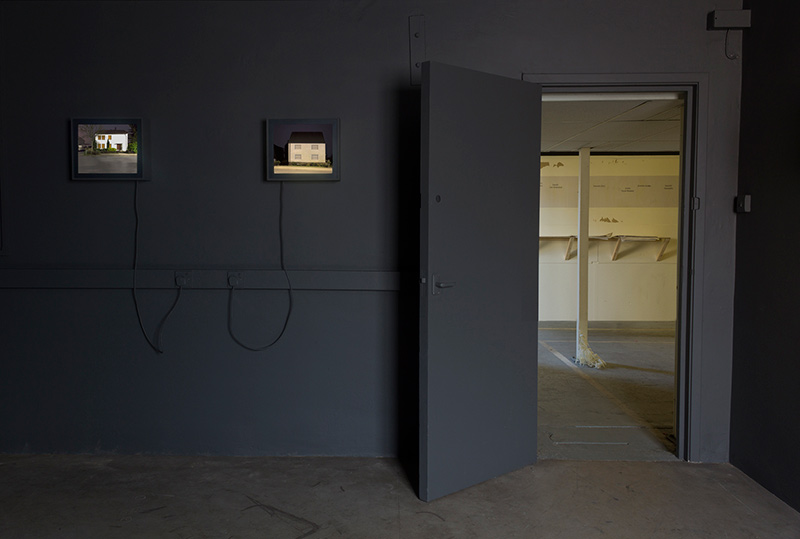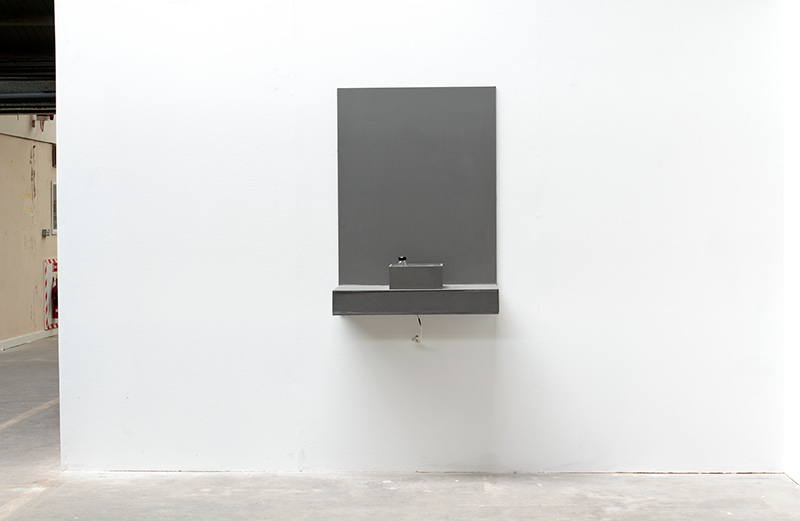 Installation Shot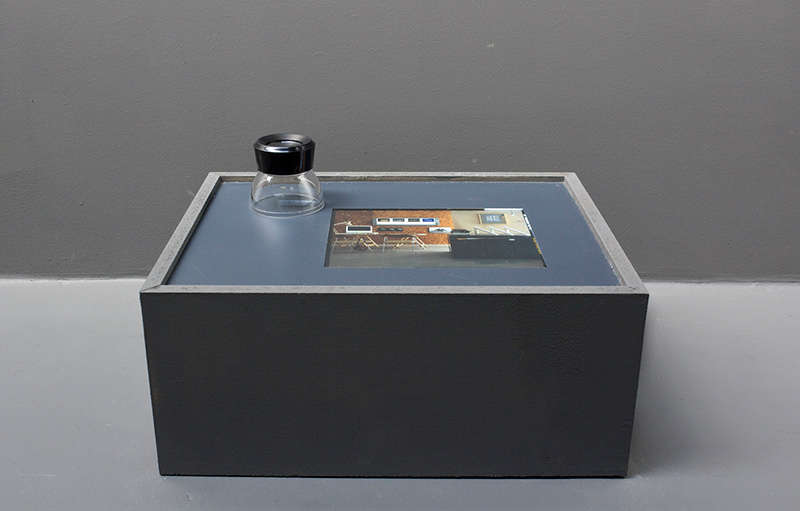 4×5 Positive, Detail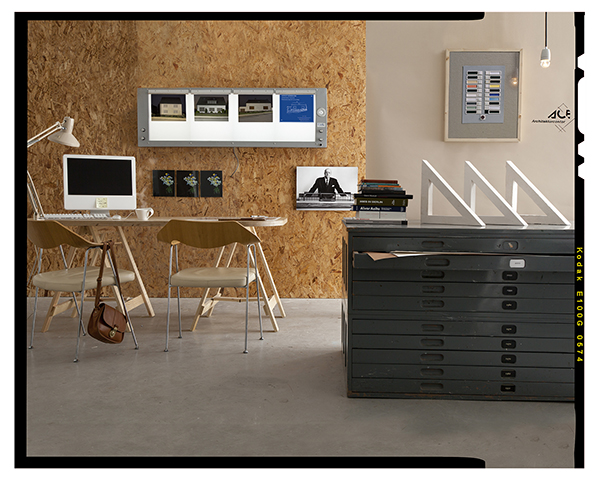 4×5 Positive (Zoom with cursor)
---
The six images Endless Demand (1950, 1970, 1970, 1980, 1990, 2000) are taken from Jan's ongoing Assindia project that tries to portray in the style of the Düsseldorf School of the Becher's stereotypical suburbs of major German cities. All shot at nighttime when the home owners have put the shutters down, the long exposure images bring out an uncanny and supra-natural atmosphere created by the street lamp's reflected facades and the glooming plants in front of the houses.

The selection here represents neither a certain geographical location in Germany nor a distinct period in which they have been erected. The images with the seemingly decontextualised houses deny the viewer the voyeuristic gaze into these habitats normally associated with these kind of imagery as the shutters block the view of the interior entirely. While the buildings with their bland facades appear featureless and exchangeable, the viewer's interest might be concerned of how the reality of the outside translates to that of the inside:
Whereas the Assindia pictures are unaltered, long-exposure images of the city's exterior, the photographic positive 'Endless Demand' is a staged set photograph of a fictitious interior of an architect's office. The presentation of the image as a 4x5 positive and also the indexical nature of the image given by the steaming coffee mug and other details such as the Thomas Demand print on the wall lend the image a certain reality. On the wall on a large light box in the architect's office, we can see the architectural plans and images for the same shuttered houses discussed above while the chest of drawers with its labelled index cards (starting from the 1950s) indicates that this office was part of the planning process. The most recent building on the right of the light box has its blueprint still hanging next to it, just waiting to be put into the drawer to make room for the next building. Whereas the images taken from the Assindia project are depictions of reality, the brightly lit interior of the architect's space is a construct, a mere fabrication:

Questioning what is real and what isn't, what's inside and what lies on the outside (of one's imagination), the work with its interconnected pictures out of two genres of photography, sets out to blur these established boundaries of photography, jumbling photography in the documentary mode and its distant cousin the staged photograph.
---